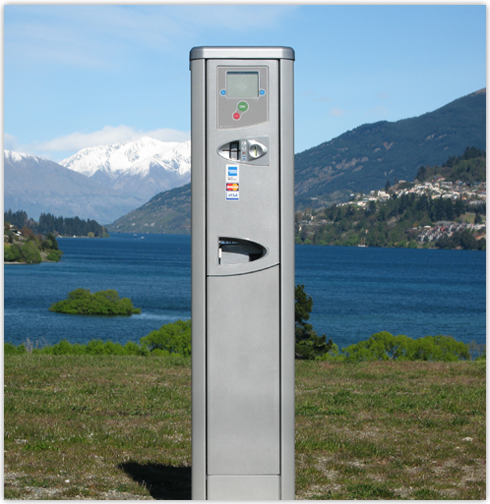 The METRO Parking Pay Station.
The METRO pay station is truly versatile. A fully integrated solar panel charges recyclable batteries eliminating the need for external mains power supply connection.
Configured in either Pay and Display, Pay-by-Space or Pay-by-Plate (license) mode, the parking meter is a self-service ticketing machine used to control parking space availability in a variety of parking environments.
These smart parking meters provide a vast selection of user-friendly features such as remote programming of parking fees and display messages, and a choice of secure payment methods including coins, bills, and cards, including on-line payment methods.
The METRO Pay and Display meter has a large graphical screen which displays parking fees, hours of operation and user instructions, eliminating the need for unsightly decals and instruction labels which require replacement when there is a parking rate change.

AWARD WINNING DESIGN
Integrated solar panel
Simple and convenient user interfaces
Sleek, compact size – smallest footprint full-featured pay station on market
---

USER FRIENDLINESS
Wireless communications and centralized management
iButton electronic locking service cabinet and vault – lost or stolen keys can instantly be remotely reprogrammed
---

LOW COST OPERATION
Simple Installation
Convenient maintenance
Low power consumption
---

INNOVATIVE CUSTOMER PARTNERSHIPS
Empowering end users with turnkey operations
Many options for customer management solutions
Spare parts always readily available